About Northwest Airlink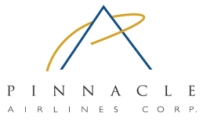 Northwest Airlink operates out of Northwest's hubs in Minneapolis/St. Paul, Detroit, and Memphis. As well as their focus cities in Indianapolis and Milwaukee. These flights are operated by Mesaba Airlines and Pinnacle Airlines. Mesaba currently operates a fleet of 35 BAE Systems Avro RJ-85s* and a fleet of 64 Saab 340 turboprops. Pinnacle currently operates a fleet of 120 Canadair Regional Jets.
In October 2005, Mesaba Aviation, Inc. d/b/a Mesaba Airlines filed for Chapter 11 under the United States Bankruptcy Code. In addition, Northwest will no longer take delivery of its Bombardier CRJ-200 orders it placed on behalf of Mesaba. At time of this writing, Mesaba's flight and ground operations remain unaffected.
*Due to Northwest Airlines' restructuring, Mesaba's Avro RJ-85 fleet will be disposed of later this year.
Information correct as of February 2006.